The dRPC's work in the Education space 
Education is the first and most consistent area of programming for us at the dRPC.  This is because, the dRPC was actually formed in the 1990s in a context of university strikes, budget cuts to education caused by structural adjustment programs, and policy zigzags as Nigeria launch the Universal Primary Education Strategy and replaced it within a fortnight with a Universal Basic Education policy.
The dRPCs' mission in the education space is one which links education and development. We aim to transform the education sector to be more inclusive, cost effective, gender transformative, and pedagogically relevant to the development needs of society. We aim to do this by identifying, supporting and positioning local education champions, innovators and their platforms (both formal and non-formal) to shape high level decisions on education at national, regional and global levels. This vision is consistent with the philosophy and model of the dRPC as an accelerator non-profit working in intermediary spaces amongst multiple stakeholders towards common cause and common goals.
Our Education programs
Since 1994, the dRPC has implemented about 19 education program funded by donor agencies such as the Bernard van Leer Foundation; the MacArthur Foundation; the Ford Foundation; Northern Youth Strategy funded by CEDPA and other development partners such as US Ambassador Nigeria and the Open Societies Foundation.
Our Achievement in the Education Space:
The dRPC is the only modern Nigerian CSO to be represented into the High Level Advisory Council on Women and Girls in Nigeria inaugurated in 2023

The dRPC supported and anchored the African Union Visiting Delegation of 2022 on child marriage and girls' education

The dRPC provided strategic support to the NERDC to mainstream entrepreneurship into the 33 Trade Subjects at the secondary school level

The dRPC has supported 23 female secondary school leavers of 2017 to design and run home-based ECCD centres in Kano and Jigawa States, meeting the needs of over 3,000 children since 2017

With funding from Open Societies Foundation, the dRPC has addressed and improved learning outcomes for technical and vocational schools to responding

Six hundred primary 3 books were donated by dRPC to the Kano State Library for the purpose of equipping the children's section of the library

With funding from the US Ambassador Nigeria, the dRPC has trained 100 State Universal Basic Education Board Grade 3 English Teachers on transition from using vernacular as a medium of instruction to English Language

With the support of the dRPC's education team, teacher-educators from Kano state Saadatu Rimi College of Education created a detailed manual for the training of Grade 3 teachers. The manual focuses on the transition from using Vernacular as a language of instruction to English Language.

The teacher educators from Saadatu Rimi College of Education utilized a pre-designed lesson observation tool provided by SUBEB to supervise and provide guidance to the 91 trained teachers.

The TDT Teachers' Training, supported by dRPC, enabled its beneficiaries to pass on their knowledge to 155 SUBEB Grade 3 Teachers in Kano State. The training focused on how to help students transition from Vernacular (Hausa) to English Language.

The dRPC donated Six hundred primary 3 books to the Kano State Library for the purpose of equipping the children's section

The dRPC hosts commemorative events such as Global Education Days such as World Book Day, World Teachers Day annually.  In 2021, dRPC arranged combined events to celebrate English Language Day/World Book Day, along with World Teachers Day and International Day of the Girl Child
Our local approach to the national, regional and global education space
In our work in the education space, the dRPC takes a holistic approach to transformation of the education system, were we support and mobilize stakeholders to conduct evidence informed to decision makers for inclusion; gender equality; cost-effectiveness; and pedagogical relevance in the education sector. Stakeholder engagement is a critical factor and often a missing piece in education policy redesign and reform.
In doing so, the dRPC is committed to mobilizing civil society stakeholder voices working within national education systems to report out and share their experiences in national regional and global standard setting and rights holding platforms. Most recently, in 2022, we have supported traditional and faith leaders to interact with African Union Scoping missions in Nigeria; we have support civil society leaders from conflict states of Northeast Nigeria to convene sessions in the African Girls Summit in 2021 to tell their stories and share experiences on the negative impact of conflict on education in the zone.
This is an important piece of our work to which we are strong committed as we facilitate reciprocal and value-driven interaction between national education systems and regional and global standards and right holding organizations. To facilitate this work, the dRPC is well positioned as a member of the Global Campaign for Education and other education platforms. With \ 30 years of experience working in this space we have learned that authentic and embedded champions and champion organizations have limited opportunities to influence spaces, to inform decision making and to contribute to evidence generation on what is working and not working. This is the unique space in which the dRPC has operated for the past 30 years.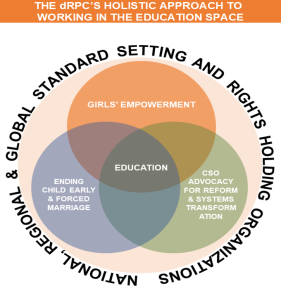 In terms of the specific areas of education that we have focused on over the past years there are six:
Schools and learning spaces safety and security

Girls' Education

Early Childhood Care and Development (ECCD)

Inclusive education

Basic Education

Technical Vocational and Education Training (TVET)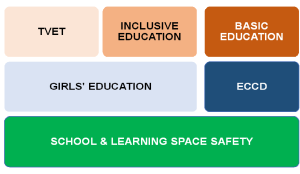 Our activities in the education space
Consistent with our mission and approach to work in the education space, our work falls into four buckets:- the most important of which is that we identify, support and position local level stakeholders at education sites of implementation (formal and nonformal) to engage with decision makers for policy and systems improvement.  Related to this, our second bucket of work is the work we do curating databases of local level experts in multiple narrow areas such as school gardens, recycling for ECCD toy making, linking champions and their platforms to national, regional and global engagement opportunities. This is a unique body of work that no other organization is doing this work in Nigeria and in Africa. Thirdly, we also experiment, learn from and implement innovative projects. With Ford Foundation support we are currently supporting a series of start-ups and innovation in the education space. Finally, we are true to the `R' in the dRPC, the R of research. We are therefore a leading organization in education policy analysis; project evaluations; and policy reviews. This is our scope of works as a leading education in development non-profit organization.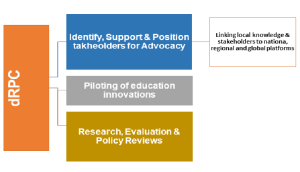 dRPC Education Activities in the Media