The Partnership for Advancing Women In Economic Development organized a panel at the 2022 Nigerian Economic Summit Group conference to discuss how the multiplicities of stakeholders – consumers, providers, supporting institutions, and enabling agencies work together to deliver financial inclusion in Nigeria.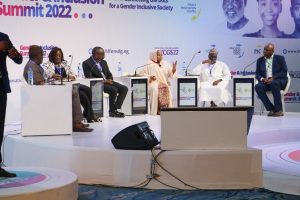 Anchored by Professor Ummu Ahmed Jalingo, the National President, Nigeria Economic Society, the panel had  Isaiah Owolabi, CEO of EFiNA –  who highlighted the role of data from the field for policies and programs for women's financial inclusion. Also, the range of products and services targeted at Nigerian women for financial inclusion is not sufficiently diversified, simple, accessible, and valuable for women in the country.
Rinmicit Aboki, Gender Advisor, Albright Stonebridge Group – provided insight into their work to remedy this through the WEE policy currently in the design phase. She provided updates on the progress in anticipation of the launch.
And, Dr. Zakariya'u Lawal mni, Director, Monitoring and Evaluation Department, Federal Ministry of Finance, Budget and National Planning – reflected on the contributions of the M&E Dept of the Federal Ministry of Finance and Development Planning to curate and brought together the data from these stakeholders to track investments in financial inclusion and the contribution to WEE. Also, discussing the PAWED-supported M&E Framework for WEE and its role as an accountability tool.
Others are, Mr. Michael Gboyega Ilesanmi, Senior Social Development Specialist, World Bank – who provided insights into the Nigeria for Women Project and the successes of reaching Women Affinity Groups as a cohort to expand their access to finance.
And, Mr. Olawale Tunde Fasanya, Director General, SMEDAN –  who discussed financial inclusion products and services, the challenges faced designing those products and services to target women specifically, and their experience innovating to target women.
Outcome of the panel
PAWED, through their session, expanded knowledge of how financial inclusion for women contributes to women's economic empowerment while identifying opportunities for expanded collaboration of stakeholders delivering products and services for financial inclusion in Nigeria.