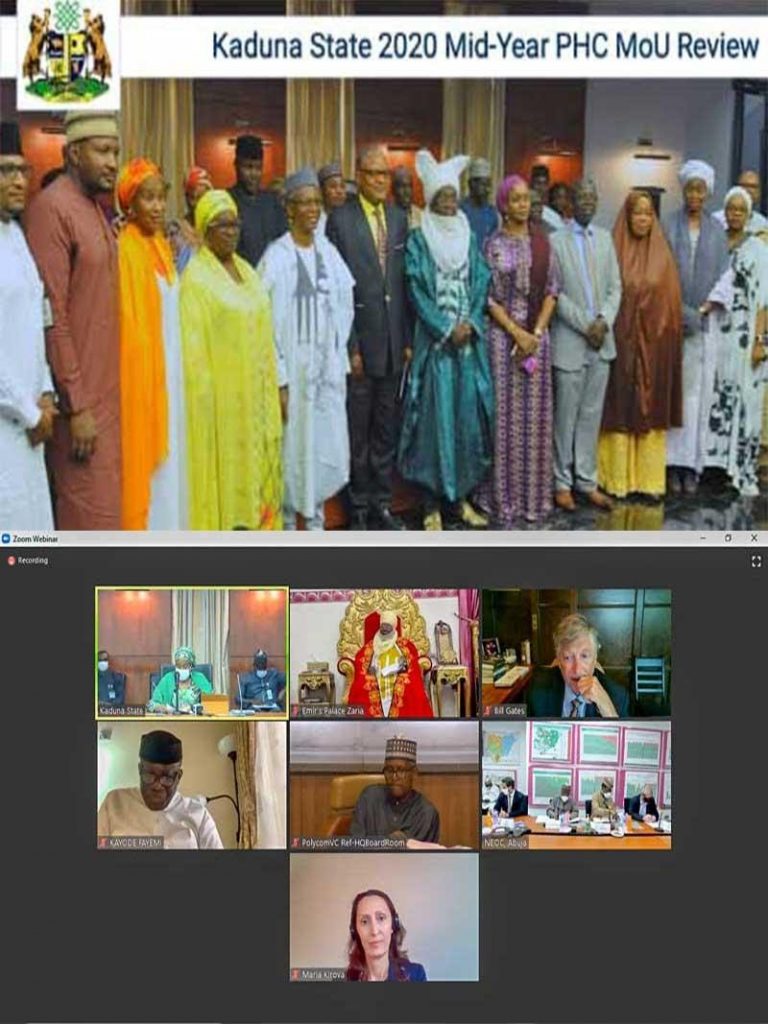 PAS coalition across the country participated in the Kaduna state 2020 mid–year review meeting held on the 11th September 2020 via zoom to discuss the implementation of Primary Healthcare Under One Roof policy implementation in the state. Outcome of the meeting include the call for the State's Traditional Leaders Council on Health to support the implementation of the integrated Community Engagement Strategy and help the uptake of these services.
Speakers during the review meeting included the Late Emir of Zazzau Alhaji (Dr) Shehu Idris, Kaduna State Governor Mallam Nasiru El – Rufai, Deputy Governor Dr Hadiza Sabuwa Balarabe, Kayode Fayemi Governor of Ekiti State and Chairman Nigeria Governors Forum, Mr. Bill Gates- founder Bill Gates Foundation, Alhaji Aliko Dangote founder Aliko Dangote Foundation, Dr Faisal Shuaibu NPHCDA Abuja, Mr. Alex UK, Miss Maria from Geneva, Global Fund, Prof Dr Faisal Shuaibu Executive Director NPHCDA.
Issues discussed include; the key achievements priority by the state commissioner for health Dr Amina Muhammed was the release of operational expenditures to 255 Ward PHCs centers to cover basic consumables and utility bills, Verification and biometric capture of SPHCB HRH completed, HRHIS updated, and integration of biometrics into HR MIS ongoing, State is on course to meet the 5% increase on budget release rate by December 2020 and Phase 1 recruitment processes completed with 1,225 HWs recruited and deployed.
The meeting also revealed the status of the 2019 Seattle declarations which shows: PHCUOR fully implemented with the recent move of the Malaria and TB programs to the Kaduna SPHCB, MSP costing fully developed and being implemented, Requirement Basic Health Care Provision Fund (BHCPF) fulfilled, PHC performance is reviewed quarterly at the SEC meetings.
The meeting agreed that top priorities for September 2020 – January 2021 are to increase the health sector budget by 5% from the baseline, complete enrolment of formal health sector into the State Contributory Health Scheme. (61.3% participants so far enrolled, Implement the audit recommendations and scale-up supply chain transformation project (SCTP) to the outstanding Health facilities, complete General State Household Survey (HHS), complete phase 2 of the recruitment of 1,834 HRH and timely release of counterpart funds for SIAs.
Recommendations
The meeting recommended that the Kaduna State Traditional Leaders Council on Health to support the implementation of the integrated Community Engagement Strategy and help the uptake of these services, development Partners should continue to provide technical and financial support to the broader PHC programs which are aligned with the State's priorities, and the  Federal Government should continue to provide technical support to PHC programs in the State and ensure availability and adequacy of Family planning, Malaria commodities and bundled vaccines
The meeting had participants for the MOU were drawn from, KDSG, BMGF, ADF, DFID, UNICEF, GF, NPHCDA, WHO, World Bank, SCIDaR, HSDF, R4D/HSCL, Core Group, Alive & Thrive, CDC – NSTOP – AFENET, Rotary International, LAFIYA, eHealth, CHAI, PERL, Malaria Consortium, CRERD, SFH, FH1360, CIHP, SCI, and dRPC – PACFaH@Scale.