Hayley King, Public Diplomacy Officer and Fatima Umar, Northern Outreach English Assistant from the Public Affairs Section (PAS) of the US Embassy in Abuja paid a working visit to the dRPC Office in Kano to discuss the progress made in implementing the Teacher Training Program for Grade 3 Transition from Hausa to English in Kano State project with the dRPC's Education Team on the 28th of October 2021.  
The dPRC's US Embassy Funded Project, Teacher Development for Transition (TDT) Project is aimed at improving the English Language competences of 100 SUBEB Grade 3 English Teachers in the area of transition from Hausa to English in 10 Government Primary Schools across 5 rural and 5 urban Local Government Areas in Kano State.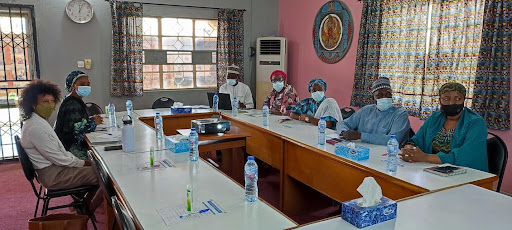 During the meeting the dRPC education team made presentations about the dRPC and its work and the progress made in implementing the TDT project. The meeting also discussed the lessons learned and the effect of covid- 19 on the implementation of the project. 
The officials from the Public Affairs Section of the US Embassy had the opportunity to interact with the officials from Kano State Universal Basic Education Board, Kano State Library Board, Lecturer from Saadatu Rimi College of Education and the TDT trained teachers on their experiences participating in the project implementation.