The CSO Movement for Safe Schools
Our Statement on safe schools
Safe schools, safe education and the International Conference on Safe Schools 2021 in Nigeria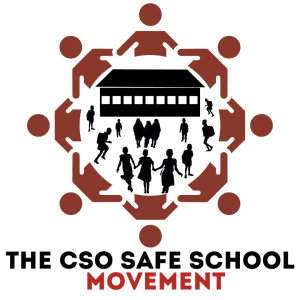 The Federal Republic of Nigeria, a signatory to the Safe School Declaration, on March 20th 2019 hosted the 4th International Conference on Safe Schools together with the Governments of Argentina, Norway and Spain. The Conference, which was held in Abuja, Nigeria between October 25-27, addressing a theme of Ensuring Safe Education for All: From Commitment to Practice brought together thousands education champions from around the world in-person and virtually to discuss safe schools. Education champions represented included Nigerian civil society organizations, government Ministries, Departments and Agencies, and the global development partners. Education CSOs participation was coordinated the Education in Emergencies Working Group Nigeria (EiEWGN), and Global Coalition to Protect Education from Attack (GCPEA) where lived experiences were presented in a CSO event. 
number of safe school activities in states
African Safe Schools Activities
number of students trained on school safety
Safe school activities by states
About 40 girls and 12 Teachers and parents including the Head of Association of Imams which comprises of 9 West African nations attended the session.
The session commenced with discussion on the safety of girls in schools. Madame Zeinabou Lawal Ma'adji of ONG Lumiere des Femmes et des Filles (LFF), a Maradi based NGO, interacted with the girls from some selected Secondary schools in Niger Republic about whether they feel safe in school and whether their parents would consider removing them from school due to the increasing attacks against schools.  Learn More
| | | | |
| --- | --- | --- | --- |
| Date Of Activity | Media | Headline | MediaLink |
| 15/04/2021 | The Nation (Education) | US embassy, DRPC support 100 English teachers on language translation in Kano | https://thenationonlineng.net/us-embassy-drpc-support-100-english-teachers-on-language-translation-in-kano/ |
| 16/04/2021 | Punch (Education) | US embassy, dRPC train 100 teachers in English translation | https://punchng.com/us-embassy-drpc-train-100-teachers-in-english-translation/ |
| 07/06/2021 | Daily Trust (Education) | NIPSS, Edo SUBEB Partner On Basic Education Policy Formulation | https://dailytrust.com/nipss-edo-subeb-partner-on-basic-education-policy-formulation |
| 10/06/2021 | AIT (GBV) | GBV coverage by AIT | https://youtu.be/bZy_jjzlLd0 |
| 10/06/2021 | NTA (GBV) | NTA media coverage NCWS | https://youtu.be/tzNiMnIxv1g |
| 10/06/2021 | TVC (GBV) | Regional Women Conference  Meeting Aims To Strengthen Economic Status Of Women | https://youtu.be/yRjg8e_zP3Q |
| 10/06/2021 | AIT (GBV) | Forum Calls for Properly Run Women co-operative societies | https://youtu.be/jkERRTc7rqY |
| 10/06/2021 | Leadership (GBV) | NUJ Condemns Attack On Journalists By DSS, Police In Abuja | https://leadership.ng/nuj-condemns-attack-on-journalists-by-dss-police-in-abuja/ |
| 10/06/2021 | Leadership (GBV) | Aisha Buhari Asks States To Empower Women | https://leadership.ng/aisha-buhari-asks-states-to-empower-women/ |
| 10/06/2021 | AIT (GBV) | 10th June 2021 AIT GBV | https://youtu.be/jkERRTc7rqY |
| 10/06/2021 | Nairaland (GBV) | dRPC Calls For Stronger Commitment In Fighting Gender-based Violence – Crime – Nairaland | https://www.nairaland.com/6598026/drpc-calls-stronger-commitment-fighting |
| 10/06/2021 | The Guardian (GBV) | Buhari gets indigenous handset as wife preaches gender inclusion | https://guardian.ng/news/buhari-gets-indigenous-handset-as-wife-preaches-gender-inclusion/ |
| 10/06/2021 | 21 Century chronicle (GBV) | 25% of married women in Nigeria physically abused – Report | https://21stcenturychronicle.com/25-of-married-women-in-nigeria-physically-abused-report/ |
| 11/06/2021 | The News Digest (GBV) | DRPC Calls For Stronger Commitment In Fighting Gender-Based Violence In West Africa | https://newsdigest.ng/drpc-calls-for-stronger-commitment/ |
| 11/06/2021 | Daily Nigerian (GBV) | dRPC seeks stronger commitment in fighting gender-based violence in Africa | https://dailynigerian.com/drpc-seeks-stronger-commitment/ |
| 11/06/2021 | PR Nigeria (GBV) | dRPC Calls for Stronger Commitment in Fighting GBV in West Africa | https://prnigeria.com/2021/06/11/drpc-calls-stronger-gbv-africa/ |
| 15/07/2021 | NTA (GBV) | REVIEW MEETING WITH CSOs TOWARDS STRENGTHENING EFFORTS TO END CHILD MARRIAGE IN NIGERIA | https://www.youtube.com/watch?v=Tm0YpnbtCQY |
| 15/07/2021 |  21st CENTURY CHRONICLE (GBV) | FG reiterates commitment to save girl child, gender-based violence+ | https://21stcenturychronicle.com/fg-reiterates-commitment-to-save-girl-child-gender-based-violence/ |
| 16/07/2021 | The News Digest (GBV) | Ending Child Marriage: FG reiterates commitment to save the girl child, other gender-based violence | https://newsdigest.ng/ending-child-marriage-fg/ |
| 16/07/2021 | The Guardian (GBV) | Government tasks states on domestication of Child Rights Act | https://guardian.ng/news/government-tasks-states-on-domestication-of-child-rights-act/ |
| 17/07/2021 | Leadership (GBV) | Federal Govt Vows To End Child Marriage, Gender-based Violence | https://leadership.ng/federal-govt-vows-to-end-child-marriage-gender-based-violence/ |
| 18/07/2021 | The Nation (GBV) | FG, AU countries to end child marriage | https://thenationonlineng.net/fg-au-countries-to-end-child-marriage/amp/ |
| 19/07/2021 | Daily Nigerian (GBV) | Nigerian govt committed to ending child marriage, gender-based violence – Minister | https://dailynigerian.com/nigerian-govt-committed-child/ |
| 21/07/2021 | Punch (GBV) | FG kicks against early marriage for girl child | https://punchng.com/fg-kicks-against-early-marriage-for-girl-child/?amp |
| 28/08/2021 | Daily Post (PAWED) | Women empowerment panacea for Nigeria's problems – Pauline Tallen | https://dailypost.ng/2021/08/28/women-empowerment-panacea-for-nigerias-problems-pauline-tallen/ |
| 15/10/2021 | Daily Trust (Education) | DRPC, US Mark World Teachers Day In Kano | https://dailytrust.com/drpc-us-mark-world-teachers-day-in-kano |
| 06/12/2021 | 21st Century Chronicle (GBV) | Civil society groups want enhanced security for schools | https://21stcenturychronicle.com/civil-society-groups-want-enhanced-security-for-schools/ |
| 06/12/2021 | NTA (GBV/Safe School) | Safe schooling: Stakeholders discuss on security & safe learning environment | https://youtu.be/n1eb885RK0E |
| 06/12/2021 | 21st Century Chronicle (GBV/Safe School) | Civil society groups want enhanced security for schools | https://21stcenturychronicle.com/civil-society-groups-want-enhanced-security-for-schools/ |
| 06/12/2021 | AIT (GBV/Safe School) | AIT News: Safe schools-CSOs tasked to increase advocacy to end insecurity | https://youtu.be/UYnHHgmMaL0 |
| 06/12/2021 | NTA (GBV/Safe School) | NTA News: Safe schooling: Stakeholders discuss on security & safe learning environment | https://youtu.be/HHbosazO3E8 |
| 09/12/2021 | The Nation (GBV/Safe School) | CSOs cry out over FGC pupils, others abducted since June | https://thenationonlineng.net/csos-cry-out-over-fgc-pupils-others-abducted-since-june/ |
| 09/12/2021 | The Nation (GBV/Safe School) | Nipping bullying in the bud | https://thenationonlineng.net/nipping-bullying-in-the-bud/ |
| 09/12/2021 | Leadership (GBV/Safe School) | CSOs Brainstorm On Insecurity In Schools | https://leadership.ng/csos-brainstorm-insecurity-in-schools/ |
| 16/12/2021 | My School News (Education) | Insecurity: As Gov'ts, Communities Strategizes To Make School Safe | https://myschoolnews.com.ng/insecurity-as-gov-ts-communities-strategizes-to-make-school-safe/12209 |
| 13/01/2022 | Education Monitor News (Education) | Joint dRPC, UNICEF Workshop Identifies New Major Threats to Girl Child Education | https://educationmonitornews.com/joint-drpc-unicef-workshop-identifies-new-major-threats-to-girl-child-education/ |
| 06/03/2022 | AIT (GBV-Safeschool) | Education development: dRPC trains various stakeholders on Safe School Declaration | https://youtu.be/pVR7B5O60Q8 |
| 26/07/2022 | AIT (Safe School) | Girl Child Education-Forum wants government to adopt plans with flexible implementation | https://youtu.be/I_Tdo9nMKOY |
| 10/09/2022 | Daily Trust (Safe School) | 'One In Every Three Children In Nigeria Is Out Of School' | https://dailytrust.com/one-in-every-three-children-in-nigeria-is-out-of-school |
| 17/09/2022 | AIT (Safe School) | Stakeholders on education hamper on safe school opening in Nigeria | https://fb.watch/fGvCGKnSDF/ |
| 27/10/2022 | Trust TV (PAWED/SafeSchool) | Girl Child Development: Gender advocates demand safer school to curb early marriage | https://youtu.be/MFomKJrPXjo |
| 28/10/2022 | Arise TV (PAWED/Safe School) | Importance of girl child education | https://youtu.be/TRb3qx33P68 |
| 10/11/2022 | Premium Times (FF) | What Nigeria must do to end child marriages – Experts | https://www.premiumtimesng.com/news/top-news/564662-what-nigeria-must-do-to-end-child-marriages-experts.html |
| 13/11/2022 | The Nation (GBV-FF) | AU set to fight child marriage | https://thenationonlineng.net/au-set-to-fight-child-marriage/ |
| 25/11/2022 | NTA (GBV/SS/FF) | Education innovation summit: Four teachers rewarded at WATIP award ceremony in Lagos | https://youtu.be/BAwozWHj4eA |
| 06/12/2022 | NTA (GBV-FF) | dRPC, FOMWAN, CADI and Al-Nas Consult ltd organizes a three-day GBV workshop for Hisbal officials | https://youtu.be/n5h1dIBjwNc |
| 08/12/2022 | Leadership (GBV-FF) | Group Trains Hisbah Commanders On GBV Issues In Kano (leadership.ng) | https://leadership.ng/group-trains-hisbah-commanders-on-gbv-issues-in-kano/ |
| 08/12/2022 | NTA (GBV-FF) | NTA media coverage on NCWS conference on GBV | https://youtu.be/LQZLpuPkTbE |
| 08/12/2022 | AIT (GBV-FF) | AIT media coverage on NCWS conference on GBV | https://youtu.be/dehoW0dRupE |
| 08/12/2022 | Voice of Africa- Hausa (GBV-FF) | Hisbah na fama da kalubalen warware matsalolin mata da yara rano | https://www.voahausa.com/a/hisbah-na-fama-da-kalubalen-warware-matsalolin-mata-da-yara-rano-/6865621.html |
| 08/12/2022 | Trust TV (GBV-FF) | Violence against women-Hisbah in Kano to apply Islamic Law to punish violators | https://youtu.be/rXOIoLbFrvk |
| 08/12/2022 | Leadership (GBV-FF) | https://leadership.ng/group-trains-hisbah-commanders-on-gbv-issues-in-kano/ | https://leadership.ng/group-trains-hisbah-commanders-on-gbv-issues-in-kano/ |