In commemoration of the 2022 Annual 16 days of Activism against gender based violence, the dRPC with funding from Ford Foundation and in collaboration with the Federation of Muslim Women's Associations in Nigeria (FOMWAN), Al-NAS Consulting Limited and Community Awareness Development Association (CADI) convened a 3 day training workshop on the roles of state Hisbah in protecting women and girls from gender based violence through applying Islamic perspectives for Kano, Kebbi, Katsina, Jigawa, Sokoto, and Zamfara States Hisbah Commanders.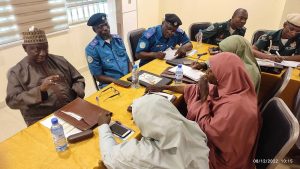 The workshop, which was held on the 6th, 7th and 8th December 2022 in Kano State, was attended 52 participants (including Hisba Officials, FOMWAN Ameerahs, and other high-level dignitaries). The workshop was declared opened by the Commandant-General, Kano State Hisbah Board with a keynote address on the nature and character of GBV in Northern Nigeria. The keynote address was followed by presentations on the extant laws protecting women and girls from GBV, Islamic Law and GBV, the role of Hisbah in addressing GBV and group work sessions.
One of the key achievements of the workshop was the evident increase in knowledge of the Hisbah officials as indicated by their responses in the post evaluation questionnaires that they have learnt the GBV laws passed in the Northwest States were vetted and reviewed by legal experts and Islamic scholars to ensure its conformity with Shariah. They also indicted that they have learnt about the Islamic provisions on issues relating to gender based violence and some of their misconceptions about the extant laws on Gender Based Violence (GBV) were addressed.
The participants expressed their commitments to protect women and girls from all forms of Gender based violence and cascade their learnings to all Hisba Officials in their States. As such, the hisbah officials will be supported by the dRPC through the Ford Foundation BUILD project to stepdown the training in their various states with the aim to improve the responsiveness of the state Hisba commands to gender based violence against women and girls.