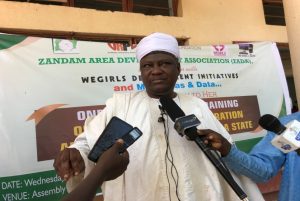 MY WORKING EXPRIENCES WITH dRPC NIGERIA ON SAFE SCHOOL DECLARATION PROJECT.
Success and failure work together in building human beings in the society; they are inevitable circumstances in human life. This depicts that both negative and positive indices shall be a test of life for everyone. For the past centuries Northern Nigeria was calm enough to attract visitors, businessmen and Tourists especially to Katsina State due to the harmony and stability of life in the State. Irrespective of the poverty rate in the region, people were able to sustain their livelihood. A day was never anticipated when a Fulani clan will desperately fight a Hausa clan to make each other extremely vulnerable in all the aspect of life, "be it socially, physically, psychologically, economically, healthily, agriculturally, financially, industrially and even educationally".
Education is a fundamental factor of development all over the World, if the education status of a Country, State, Local Government or a certain Community is like you use a missile of mass destruction against their livelihood, prosperity and future development. It is almost impossible for such community to independently walk ahead to next level of development.
It has been a bulletin for all the Newspapers', National and International Radio and Television headline speaking about 325 school children were abducted at the Government Science Secondary School Kankara in Katsina State. A similar incidence happened in Tagina Niger State, Maru in Zamfara State, Yawuri in Kebbi State, Chibok in Borno State, Kaduna, Adamawa and other states in Northern Nigeria were not left out. These occurrences led to the relocation of the students of Government Girls Unity Secondary School (GGUSS) Jibia to the Government Secondary School (WTC) Katsina for the fear of possible abduction. Many boarding School were turned into day schools because the Government could not guaranty safety in such schools. The Local Education Authority of Jibia Local Government halted the teaching and learning activities of the five political wards out of the eleven wards including Zandam. For the past three years, the pupils of Zandam and neighboring Communities were deprived of attending normal classes.
My experience working with development Research and Project Centre (dRPC) is inspiring, highly educative. Actually my capacity to contribute to development projects and researches as a traditional leader was built and my perspective to development issues was equally enriched by working with people of high intellect from different organizations with different ideas and experiences. The dRPC Nigeria in conjunction with Ford Foundation, UNICEF and Nigeria Education in Emergency Working Group invited us for a three days training program in Abuja at Jades Hotel Conference Hotel on CSOs Step-Down Training on School Safety, Security and Resilience Systems Building. Those three days were amazing days. The participants were invited across the all regions of Nigeria. We shared experiences on the agonizing stories of about the happenings in our various states with respect to Education in Emergency. Almost every participant who shared an experience spoke bitterly with complains about the issues on insecurity situations; alarming rate of kidnapping and banditry. The training tremendously equipped us with new innovative ideas on school safety and security, starting with the minimum standard of safe school, safe school common approach, child protection and the right of a child, armed attacks on schools, Conflict sensitive plan, Evacuation drill to mention just a few.
On the 27th of February 2022, Zandam Area Development Association (ZADA), We Girls Development Foundation and MS Ideas and Data collectively signd a Memorandum of Understanding with the Development Research and project Centre (dRPC) Nigeria for a  one day sensitization and step-down training on Safe School Declaration (SSD) in Katsina State. In participation for the training, were education and security stakeholders and representatives from five (5) schools including five (5) students per school. On the 9th of February 2022 a media brief was conducted with about ten (10) media services (print, Social Media, Radio and Televisions) in participation. The aim of the media brief was to sensitize the general public about the SSD and recommendations.
During the training the invited guests and participants learned new innovative ideas to keep schools safe especially on the Evacuation drill,  Child Protection and the Right of a Child, Roles of Teachers and SBMC/CBMC Members in Child Safeguarding and First Aid Treatment which was demonstrated by the Nigerian Red cross Society. The participating stakeholders asked for the scale up of the program to reach more schools.
Ambassdor Gidado Suleiman Farfaru LDM
(Magaji Zandam)
Coordinator,
Zandam Area Development Association (ZADA)
dRPC Champion.