What does PACFaH@Scale (PAS) Do?
We build capacity for social accountability in the health sector. How do we do this? We build capacity by strengthening the Organizational and Technical capacity of PACFaH@Scale (PAS) NGOs partners to – formulate, deliver and achieve health advocacy tasks.
THE ADVOCACY POLICY CYCLE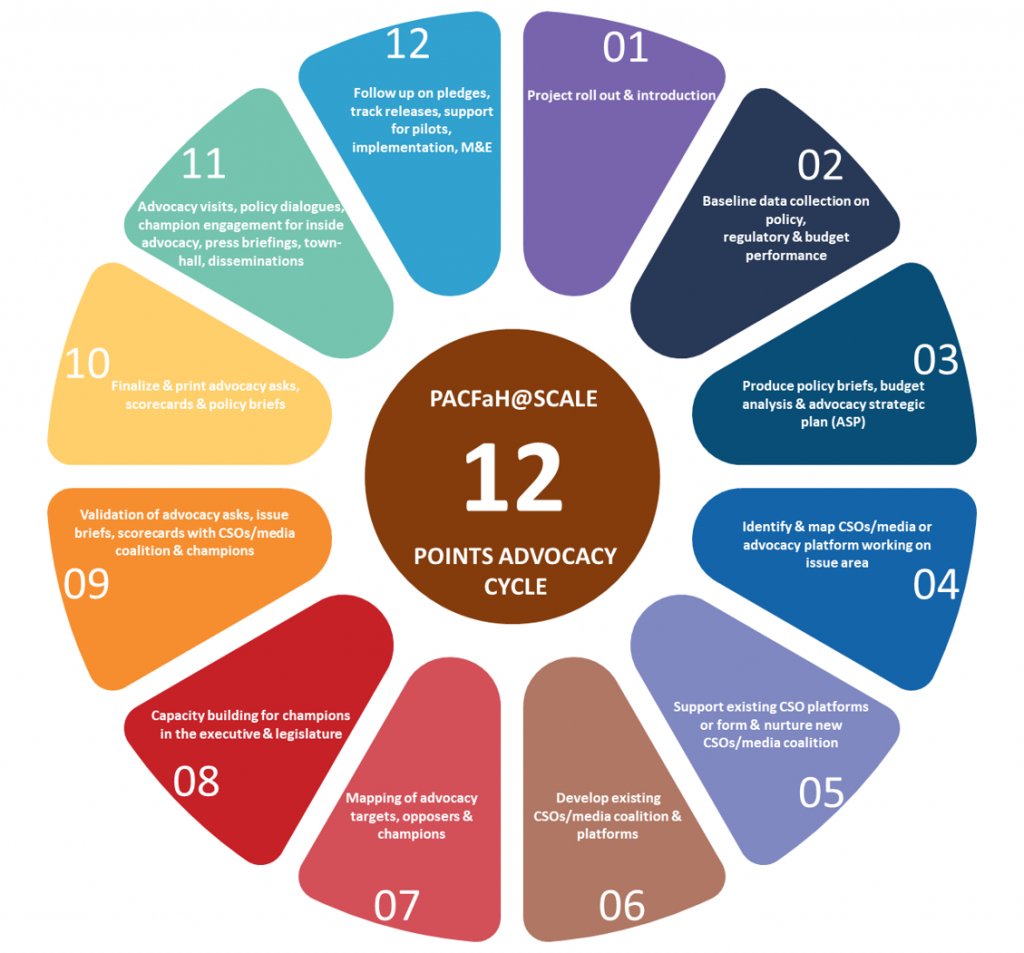 THE THEORY OF INFLUNCE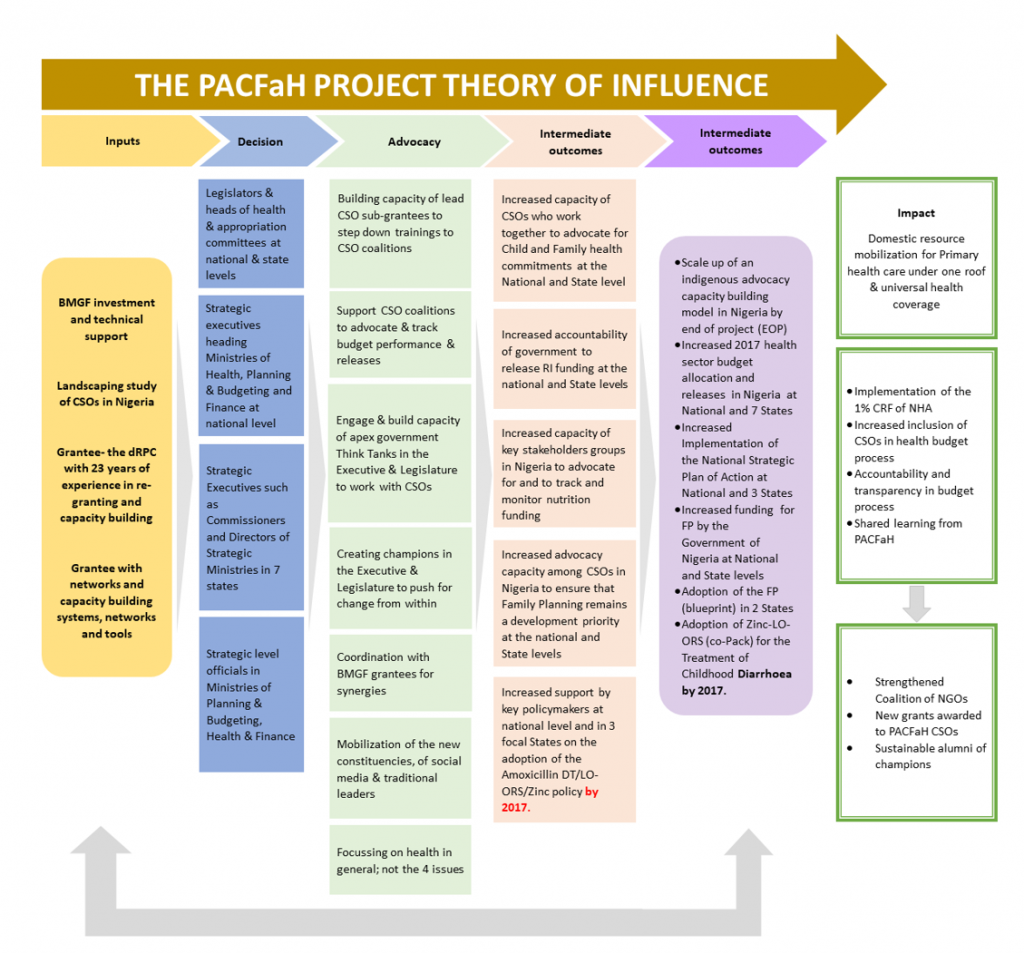 EVIDENCE GENERATION
Health Policy, Issue Briefs development, dashboard & scorecard development workshop
Observation & Life Experience to Issue development workshop
How to conduct Policy Dialogues workshop
CONSTITUENCY MOBILIZATION
Grassroots coalitions building workshop
Checklists & templates for working with the media
Engaging traditional & Religious leaders workshop
MOBILIZATION FOR FOLLOW UP
Budget tracking working
Budget literacy workshop
Media strategy for advocacy commitment follow up workshop
Managing media grand challenges
Conducting follow-up visits Best Practices
M&E TO TRACK THE TASKS
Developing M&E Plan for Advocacy workshop
Monitoring the impact of constituencies mobilized
Outcome monitoring in health advocacy workshop
M&E Template design workshop
Mentoring
CONDUCTING THE ADVOCACY
Advocacy visits Checklists
Advocacy Strategic Plan development workshop
Communication strategy for Executive & Legislative Advocacy workshop
Drafting Press statements & Press Releases for Advocacy
INCEPTION PHASE
Workshops on financial & project management
Coalition building workshop
M&E training & mentoring
SCALE-UP PHASE
Human resources management mentoring
Financial management workshop
Proposal development
M&E training
SUSTAINABILITY PHASE
Fund raising and proposal development workshop
Financial management
Leadership training
Sustainability workshop & mentoring
EXECUTIVE – By working through the MOU mechanism with the National Institute for Policy and Strategic Studies (NIPSS) the PACFaH@Scale (PAS) project has developed a key cohort of Health Sector Champions for Child and Family Health in the executive. Champions are taken through leadership training by NIPSS to stand for the health sector within the system
LEGISLATURE – By working through the MOU mechanism with the National Institute for Legislative Studies, (NILS) the PACFaH@Scale (PAS) project has supported the learn about health sector financing in South Africa and compare their achievements to the under-funding of Nigeria.