The Partnership for Advocacy in child and family health at Scale, along with PAC grantees conducted advocacies to preserve the health budget allocated and to highlight the inadequate FP budget during the budget process and Défense at the National Assembly.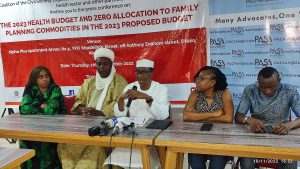 Following the findings from both advocacies to the Senate and House Committee on Health Chairmen, PAS commenced the engagements with the media targeted at the budget Defense process, specifically the Senate Committee on Health. PAS worked with and through the National Advocates for Health and in collaboration with other policy advocacy Grantee ASG, LISDEL, and others led by the National Advocates for Health to conduct a press briefing calling on the government to fulfil its commitments to Nigerians by committing the sums for financing family planning for the 2023 fiscal year.
Media present included- Arise News, Trust TV, AIT, the Nation, Daily Trust, Punch, and the Guardian.
These media partners were selected based on their strategic reach to policymakers.